Becker® MAP PILOT | $650
Other Models
For models with the standard radio and 5.8-inch color screen, MAP PILOT adds an advanced voice-controlled navigation upgrade that fully integrates with your car's in-dash displays, central controller and steering-wheel controls. Vivid maps offer detailed information, including lane guidance before a turn. Lifetime service from the Traffic Message Channel (TMC) and Becker's 45-day "fresh map guarantee" are included, and the removable glovebox-mounted module is easy to update via the Web.
More Entertainment & Communication Accessories
Drive Kit Plus for the iPhone®
$599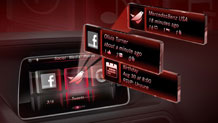 Genuine Mercedes-Benz Accessories
Genuine Mercedes-Benz Accessories allow you to define your driving experience with the same uncompromising quality and standards you have come to expect in your vehicle.
> Learn More
Lifestyle & Classic Collection
Express your automotive allegiance (and pass it on to family and friends) with our range of finely crafted offerings designed exclusively for Mercedes-Benz.
> Browse and Shop