Drive Kit Plus for the iPhone® | $599
Other Models
Your iPhone connects you to your world. Now you can stay connected on the road. The Drive Kit Plus for the iPhone® allows you to easily enjoy your favorite features of the iPhone from the comfort of your Mercedes-Benz. It seamlessly integrates a variety of social, navigation and media apps, including Facebook, Twitter® and Google Places™, along with Internet radio and AUPEO!™ Personal Radio, with the multimedia system and controls in your car, and the powerful voice control of Siri™.
More Entertainment & Communication Accessories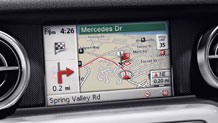 Genuine Mercedes-Benz Accessories
Genuine Mercedes-Benz Accessories allow you to define your driving experience with the same uncompromising quality and standards you have come to expect in your vehicle.
> Learn More
Lifestyle & Classic Collection
Express your automotive allegiance (and pass it on to family and friends) with our range of finely crafted offerings designed exclusively for Mercedes-Benz.
> Browse and Shop