'Tis the season for unrivaled service.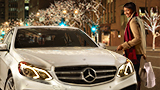 Whether it's hitting the stores for the perfect gift, heading out to see the sparkling lights or visiting loved ones, chances are you will be spending a lot of time on the road during this busy season. That's why we are dedicated to keeping your family as safe as can be throughout this special time of the year.

Our expertly trained technicians have the know-how and skill to keep your
Mercedes-Benz running smoothly. They will do everything possible to make sure that your vehicle is performing at its best.

Start the holiday season out right, and schedule an appointment for unsurpassed service.