Get your vehicle revved up for winter driving.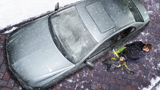 During the winter months, an added layer of protection can really come in handy. So when it comes to comprehensive vehicle service, our Mercedes-Benz dealerships are here to keep you covered.
Whether it's a thorough brake inspection or a check to make sure your filters are doing their job, you can be certain that our expertly trained technicians can help ensure your vehicle is running right all season long.
To enjoy greater protection and peace of mind this winter, schedule a service appointment today.