For a relaxing summer ahead, stop in for exceptional service.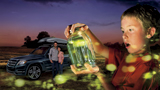 Before heading out to experience all that the summer has to offer, take some time to schedule service at your Mercedes-Benz dealership.

With a team of expertly trained, highly skilled technicians on the job, you can be sure that we will do all it takes to keep your vehicle running at optimal performance all season long.

Plus, in an effort to make your service experience the best that it can be, you can also take advantage of a range of special amenities our dealerships are more than happy to provide.

Start your summer of fun with the dedicated care you and your Mercedes-Benz deserve. Schedule a service appointment today.