Give your Mercedes-Benz a post-winter treatment.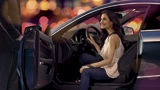 With the winter we've had, it's good to know that spring has finally sprung.

Schedule a service visit with your Mercedes-Benz dealership and our expertly trained technicians will do everything they can to ensure your vehicle continues to perform at the optimal level for which it was designed.

Along with our dedicated service and expertise, you can also take advantage of amenities designed to fit your needs and style.

Make sure your Mercedes-Benz is ready to bloom in time for spring. Schedule a service appointment today.