THE NEW 2017 E‑Class&nbspSedan
More than a stroke of genius. A masterpiece of intelligence.
INNOVATION
INNOVATION

INNOVATION
This isn't just the most advanced E-Class yet. With technologies no car has ever offered, the 2017 E-Class writes a new chapter in the story of driving: Where cars can talk to each other, and look out for you, like no other car on the road.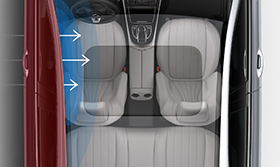 In a side impact, it's good to have innovation on your side.
PRE-SAFE® Impulse Side is an industry first that can help prepare you for an impending side impact. By rapidly inflating the front-seat bolster, it can move you further from an intrusion and help reduce the forces of impact.
System cannot prevent a collision, and does not alert the driver of an impending collision or system activation.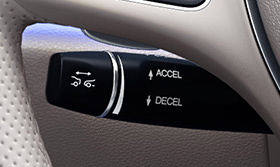 Sometimes the future is just one lane away.
DRIVE PILOT takes intelligent cruise control in a new direction: sideways. It can stop and go with the flow, and help you stay between the lines, even in curves. And now you can change lanes with just a touch of the turn-signal lever.
Active Lane Change Assist is no substitute for active driving involvement. It does not predict the curvature and lane layout of the road ahead or the movement of vehicles ahead. It is the driver's responsibility at all times to be attentive to traffic and road conditions, and to provide the driving inputs necessary to retain control of the vehicle. System may not detect some objects, obstacles or vehicles in the area into which the vehicle would move. See Operator's Manual for system's operating speeds and additional information and warnings.
---
DESIGN
DESIGN

DESIGN
Athletically elegant outside, it's in the E-Class cabin where your senses come alive. Vivid screens and flowing shapes entice the eyes. And from multitouch controls to aromatherapy and a hot stone massage, wherever you touch, it caresses you back.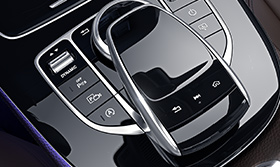 Make getting around easier. By getting around the guesswork.
Standard COMAND® navigation helps get you where you want to go with 3D maps, live traffic, searching via Yelp or HERE™, and lane advice before turns. The touchpad controller lets you control by tapping, twisting or even handwriting.
While the navigation system provides directional assistance, the driver must remain focused on safe driving behavior, including paying attention to traffic and street signs. The driver should utilize the system's audio cues while driving and should only consult the map or visual displays once the vehicle has been stopped in a safe place. Maps do not cover all areas or all routes within an area.
---
PERFORMANCE
PERFORMANCE

PERFORMANCE
You don't measure a car's efficiency just at the gas pump. It's also something you feel in its confident agility. How it moves into traffic, or negotiates a surprise. It's how an E-Class always feels right for the times, and in the moment.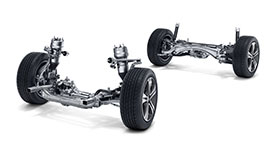 An even keel, even on choppy seas.
Available new AIR BODY CONTROL turns pressurized air into poised handling and a polished ride. It's self-leveling and adaptive, with modes for solo jaunts on twisty roads to Sunday journeys with the whole family aboard.
---
---