AMG S-Class Cabriolet
Quite possibly the top of the top-down world.


AMG S 63 and S 65 CABRIOLETS
Every Mercedes-AMG is a purebred performer. Top-down in a 603-hp AMG S 63 and 621-hp S 65, the passion is even purer. A new vertical-bar grille leads the air to their hand-built biturbo engines. The engines lead you to driving ecstasy.
---

A race that knows no finish line.
In an old mill in 1967, two automotive engineers with a passion for motorsports began turning Mercedes-Benz sedans into winning racecars. Today, as the performance division of Mercedes-Benz, AMG continues to create victory on the track and desire on the streets of the world. Every Mercedes-AMG vehicle is the product of craftsmen, designers and engineers who live to test limits, and for a singular goal: Driving Performance.


Born to perform, developed to outperform
A Mercedes-AMG engine only starts with the state of the art. From there, everything from fuel pressure to exhaust routing is developed to quicken, heighten and intensify its response, and yours. Developed for AMG's racecars, patented NANOSLIDE® cylinder walls cut friction, raising endurance and power.
---
Handcrafted power, just waiting to be opened up.
Packing a pair of twin-scroll turbos in the "hot V" between its cylinder banks, the S 63's 4.0L V8 can turn its 603 hp into 60 mph in just 3.4 seconds. With 621 hp and 738 lb-ft of torque, the S 65's biturbo V12 delivers staggering power with seamless ease. **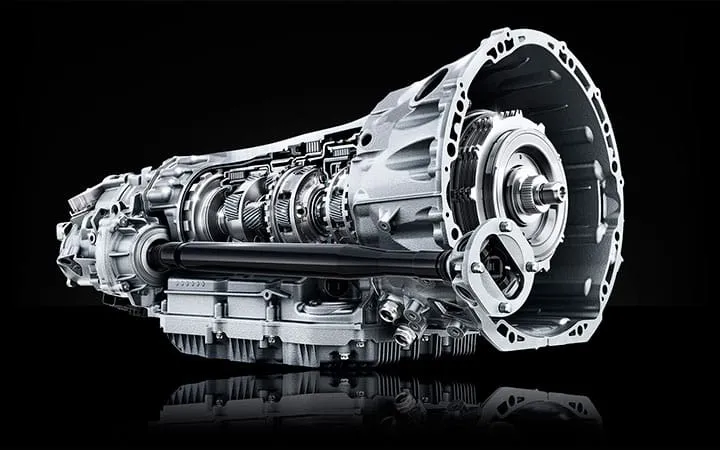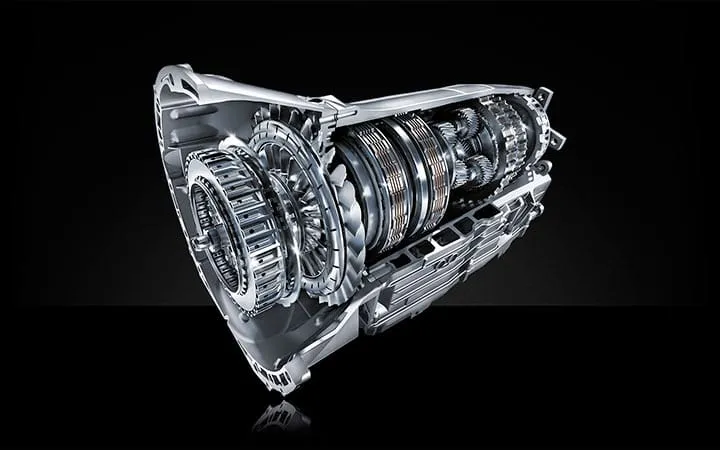 Speedier shifting, at your fingertips.
Quick-shifting transmissions keep you at the peak of power. A 9-speed multiclutch AMG SPEEDSHIFT® MCT in the S 63 is light, swift and flexible. Both it and the S 65's AMG SPEEDSHIFT TCT 7-speed offer multiple modes and rev-matched, multi-gear downshifts.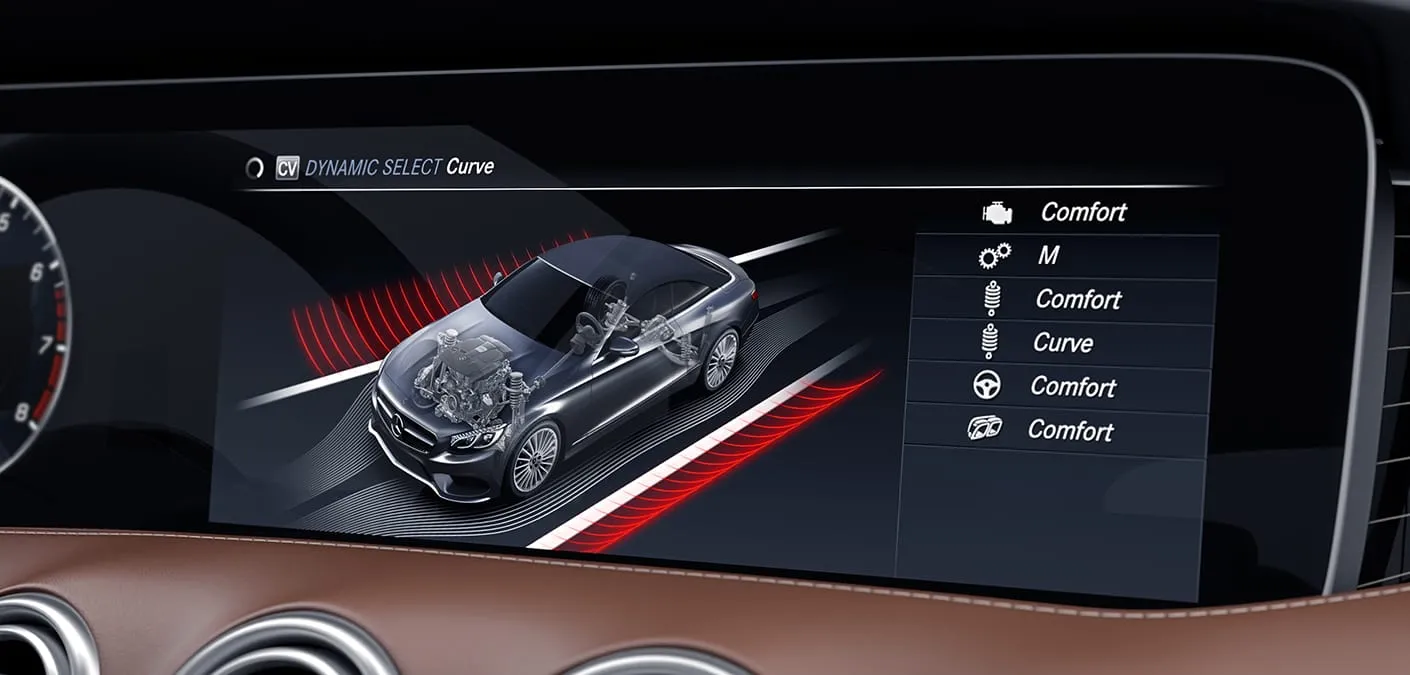 Multiple modes, for your many driving moods.
AMG DYNAMIC SELECT lets you transform your car with the tap of a console control. From Comfort to Sport+, there's a mode to sharpen corners or chill out your commute. You can even set up the shifting, suspension, steering and more to create a mode of your own.


Variable torque, to turn traction into action
AMG Performance 4MATIC+ expertly apportions the S 63's torque to all four wheels, to maximize grip at takeoff, agility in turns, and stability in all situations. Its innovative variable torque split can adapt to conditions intelligently and seamlessly, from 100% to the rear wheels to a 50/50 split. [3]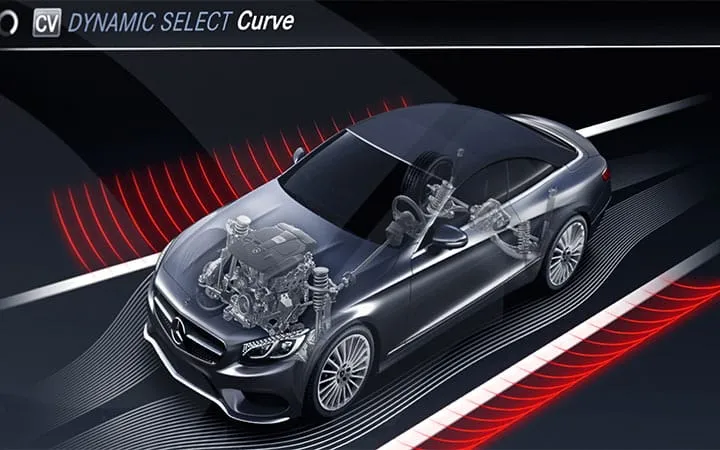 Torque vectoring, for an edge around corners
Along with 3-stage ESP® that lets you vary the intervention of the Electronic Stability Program, torque-vectoring Dynamic Cornering Assist helps you take curves with greater precision. Single-wheel braking helps gently pivot the car onto a more favorable path. [4]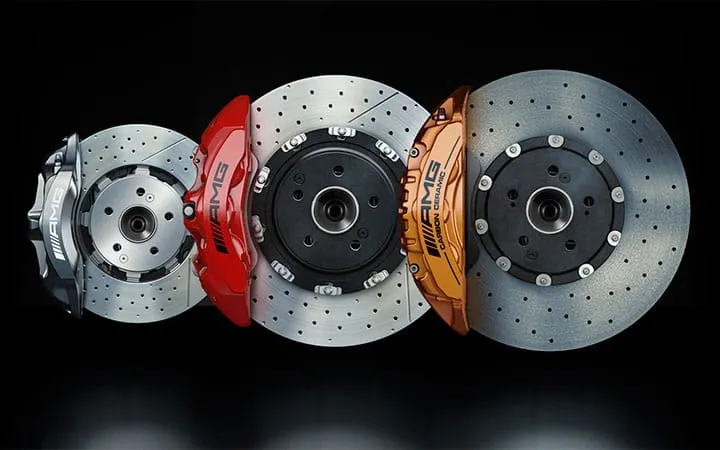 Compound brakes, to rein in its horses.
An AMG S-Class is engineered to shed speed even more admirably than it accelerates. Rigid 6-piston front calipers evenly apply high braking force to compound perforated and slotted 15.4-inch front discs. Optional AMG Ceramic Composite brakes are race-proven for extreme endurance with less weight. [5] [6]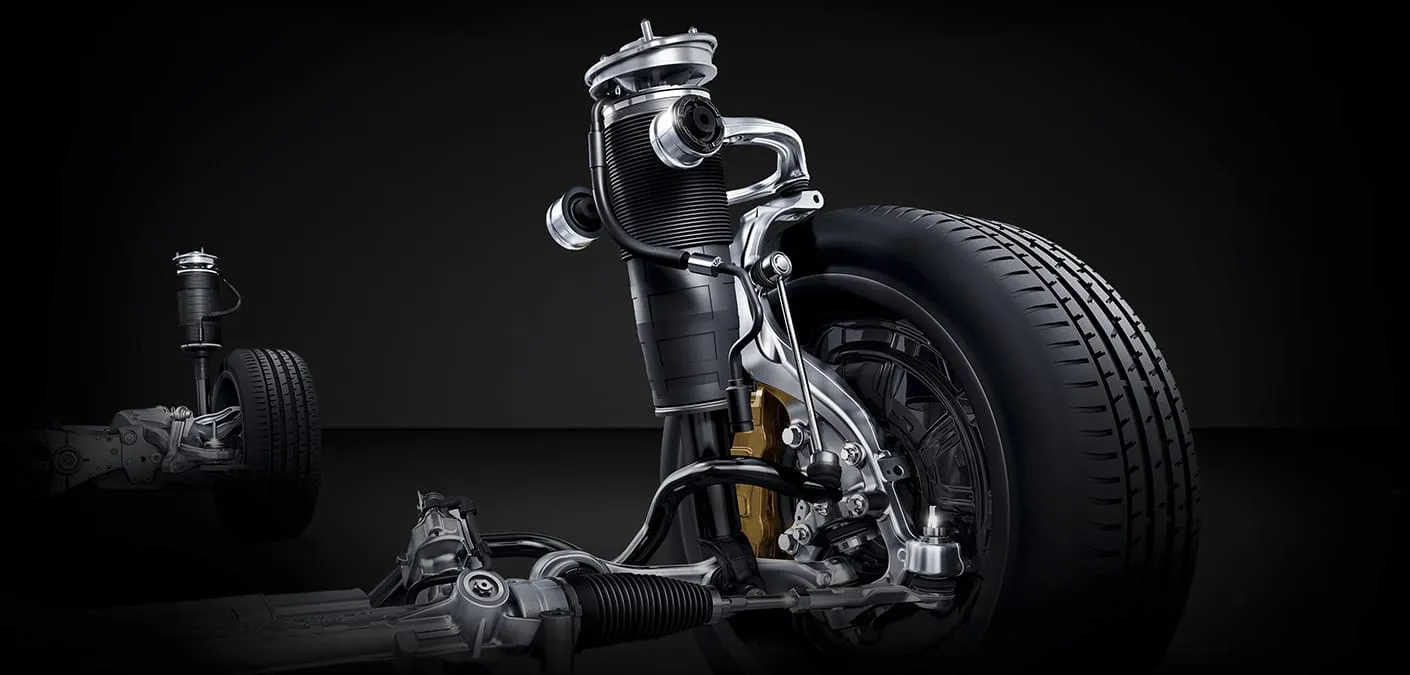 Adaptive handling, to balance agility with civility.
The AMG Adaptive Sport Suspension is based on AIRMATIC®, an advanced air suspension with adaptive damping and 4-wheel automatic leveling that adjusts for vehicle loading and driving speed. Multiple modes let suit your deepest driving desires or insulate passengers from rough surfaces.


An homage to racing ahead.
From its classically inspired vertical-bar grille to its LED lighting and 20-inch wheels, an AMG S-Class Cabriolet honors its rich traditions by boldly moving them ahead. Matte or brilliant chrome are among the details that distinguish the S 63 and S 65 from each other, and any other convertible.
---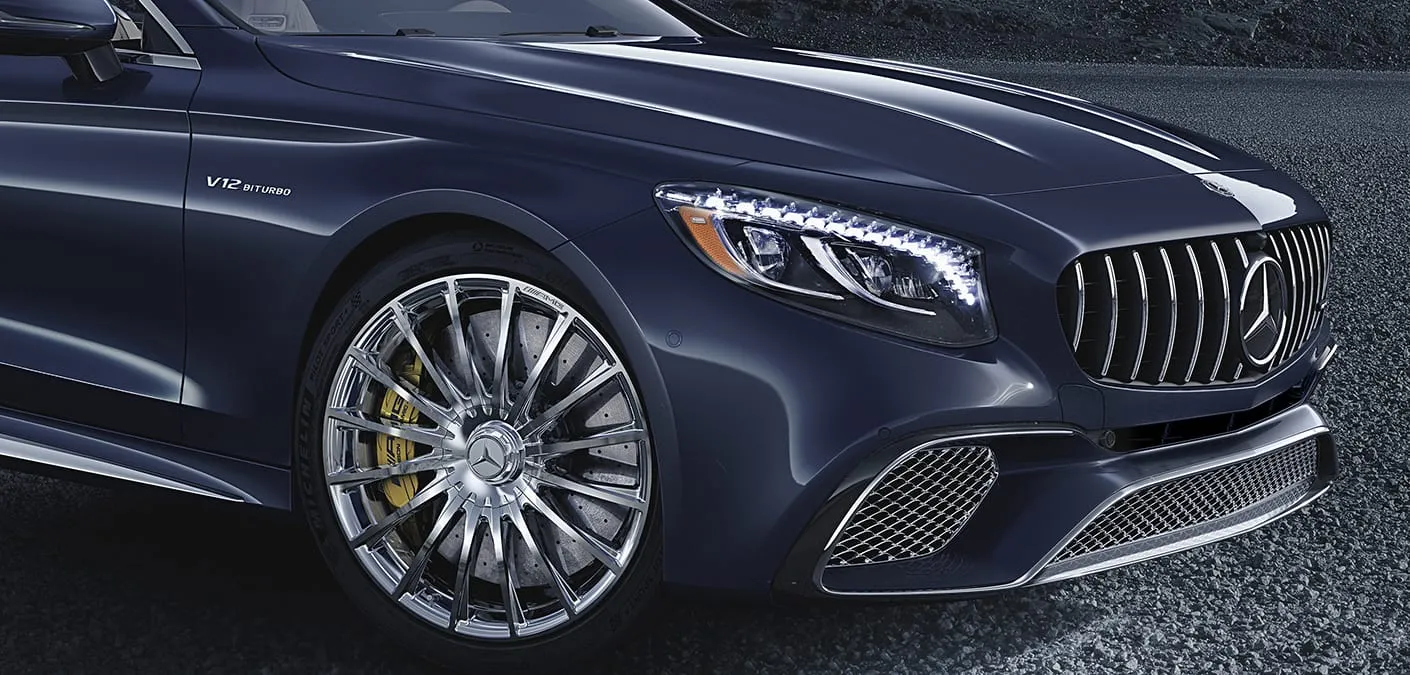 Control in your hands.
Now available in four styles, the AMG Performance steering wheel puts extraordinary handling in your hands. Its Touch Control Buttons bring an exceptional array of features to your thumbs, with smartphone-style swipes. Twin 12.3-inch widescreens offer reconfigurable digital instruments and displays.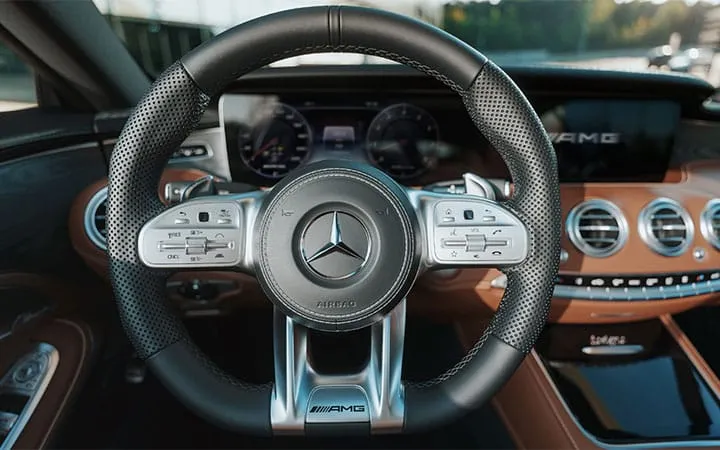 Tailoring that can't be topped.
A flowing sculpture of hand-finished wood or carbon fiber, precisely stitched leather, and satin aluminum envelops the four seats. Top up, there's suedelike DINAMICA overhead in an S 63, mixed with Nappa leather on the S 65. Top down, a ring of satin metal encircles the cabin like art in a frame.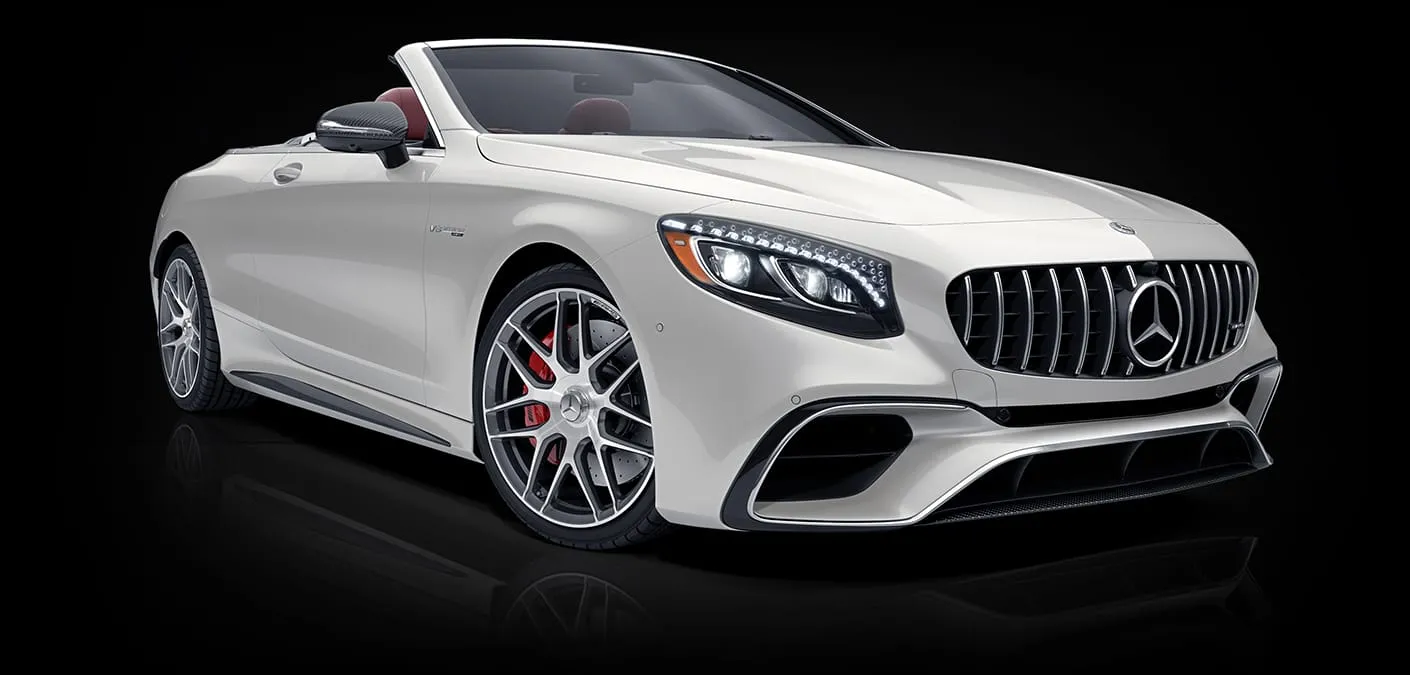 The power to express yourself.
Six 20-inch AMG® wheel designs are available, nearly all forged-alloy. Two styling packages let you accent the deep gloss or modern matte paintwork with carbon fiber or gloss black elements. Your AMG S-Class Cabriolet lets you make a powerful style statement, and backs it up with performance to match.
Models
Model Lineup
AMG S 63 Cabriolet

$

180,100

*

MSRP

Engine

Handcrafted 4.0L AMG V8 biturbo
Acceleration

0-60 mph
3.4 sec **

Power

@ 5,500-6,000 rpm
603

hp

Torque

@ 2,750-4,500 rpm
664

lb-ft
---
Dimensions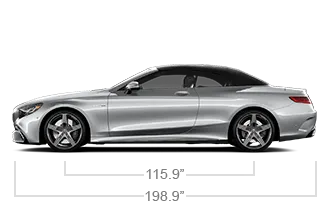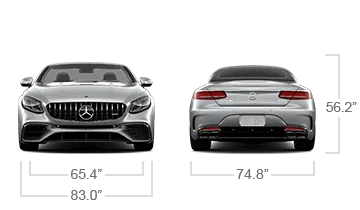 Key Features
Passenger capacity

4

Automatic Transmission

AMG SPEEDSHIFT® MCT 9-speed

City fuel economy

TBD mpg

Highway fuel economy

TBD mpg
AMG S 65 Cabriolet

$

253,550

*

MSRP

Engine

Handcrafted 6.0L AMG V12 biturbo
Acceleration

0-60 mph
4.0 sec **

Power

@ 4,800-5,400 rpm
621

hp

Torque

@ 2,300-4,300 rpm
738

lb-ft
---
Dimensions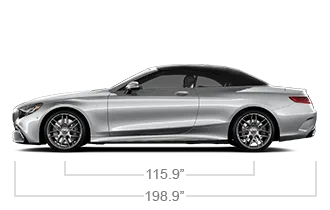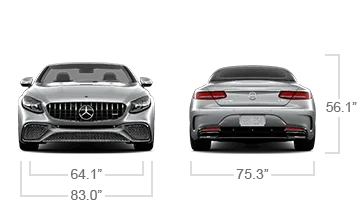 Key Features
Passenger capacity

4

Automatic Transmission

AMG SPEEDSHIFT® PLUS 7-speed

City fuel economy

14 mpg

Highway fuel economy

21 mpg