Robust, washable synthetic material, is designed for heavy use. Covering the entire footwell, the raised edges and structured surface help keep the floor clean and dry. Available in Black or Mocha Brown, they're sold as a three-piece set for each front footwell with a single-piece tray for the floor in the second row. A 3rd-row tray is sold separately.
More Vehicle Care and Protection Accessories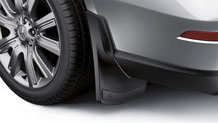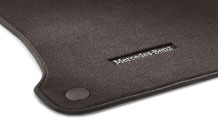 Genuine Mercedes-Benz Accessories
Genuine Mercedes-Benz Accessories allow you to define your driving experience with the same uncompromising quality and standards you have come to expect in your vehicle.
> Learn More
Lifestyle & Classic Collection
Express your automotive allegiance (and pass it on to family and friends) with our range of finely crafted offerings designed exclusively for Mercedes-Benz.
> Browse and Shop