Foldable protective mat. Easy to attach. Protects bumper and load sill from scratches. Helps keep the load area clean. Helps protect clothing when loading trunk compartment or roof box. Can be connected to cargo tray and reversible mat. Space-saving stowage. Easy to clean.
More Cargo Management Accessories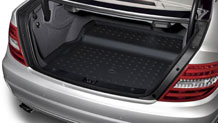 Genuine Mercedes-Benz Accessories
Genuine Mercedes-Benz Accessories allow you to define your driving experience with the same uncompromising quality and standards you have come to expect in your vehicle.
> Learn More
Lifestyle & Classic Collection
Express your automotive allegiance (and pass it on to family and friends) with our range of finely crafted offerings designed exclusively for Mercedes-Benz.
> Browse and Shop