Featuring special high-density foam that provides excellent insulation, these custom fit sunshades deflect damaging UV rays while keeping the cabin cool and comfortable in hot weather.
More Vehicle Care And Protection Accessories
Mercedes-Benz Car Cover
$375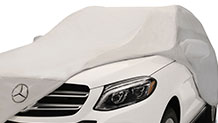 Genuine Mercedes-Benz Accessories
Genuine Mercedes-Benz Accessories allow you to define your driving experience with the same uncompromising quality and standards you have come to expect in your vehicle.
> Learn More
Lifestyle & Classic Collection
Express your automotive allegiance (and pass it on to family and friends) with our range of finely crafted offerings designed exclusively for Mercedes-Benz.
> Browse and Shop