Remote Access
Remote Vehicle Controls
The most enjoyable drive begins on your desktop.
With Send2Benz™, mbrace lets you find a destination on your computer and upload it directly to your car's navigation system. From Google Maps™, the Search & Send™ feature lets you send an address, or even an exact route you choose. There's also a toolbar widget you can download that lets you highlight virtually any address on your computer screen and send it to your car with two clicks. (Disclaimer)
Mobile App
When you're on the go, the Mobile App keeps you moving.
With the mbrace Mobile App on your iPhone® or Android™ phone, the convenience of Send2Benz is in your pocket. It lets you send the address of a point of interest, or even someone in your own contacts, directly to your navigation system. The Mobile App also helps you find your way back to your car, letting you pinpoint it on a map if you can't remember where you parked. (Disclaimer)
Addresses and Maps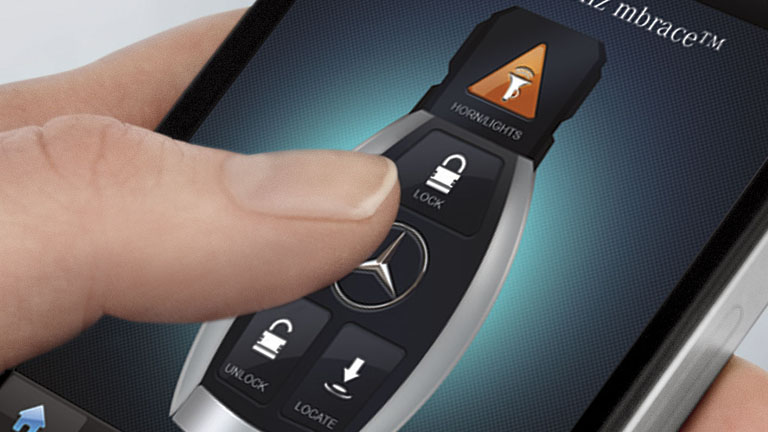 Like keeping your car in your pocket. Only more comfortable.
Forget where you parked at the mall? Your Mercedes-Benz can show you on a map. Not sure if you locked the doors? Tap, touch, done. With the mbrace Mobile App's remote vehicle controls, peace of mind is as close as your smartphone. You can even sound the horn. Or lock and unlock it from the Web or with a phone call to mbrace.
---