My precious time. My Service.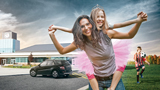 Enjoy a clock change from your Mercedes-Benz dealer.

Autumn is flying by. As Daylight Savings ends and Standard Time begins, we can save you valuable time by resetting the clock inside your Mercedes-Benz vehicle. It's a service we are pleased to offer to help you keep from "falling back" this time of year.

Schedule an appointment with your local Mercedes-Benz dealership, and one of their expert technicians will be more than happy to take care of the clock adjustment and have you back on the road in no time. It's just one way we can show our thanks for being such a valued customer.