Mercedes-Benz mbrace®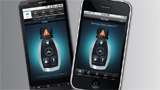 Support and assistance when you need it most.

Keep drivers, passengers and vehicles safe and secure with emergency response and theft recovery. When accidents happen, count on mbrace. When mbrace detects a collision, you are put in contact with an Emergency Response Specialist who knows your exact location, sends emergency services if needed, and can even stay on the line until help arrives. And with built-in GPS, mbrace can even help you recover your vehicle if it is stolen.

Use your smartphone or computer to interact with vehicle data and controls.Locked your keys in the car? Use the mbrace Mobile App to unlock it. Left your laptop in the backseat? The app lets you use your smartphone or computer to confirm your car is locked. Planning a trip? With Send2Benz™ you can remotely send routes and destinations to your COMAND navigation system. You can also use Drive2Friend™ to conveniently connect with friends.

Receive agent assistance on everyday tasks and unexpected changes in plans.Upgrade to mbrace PLUS and experience the benefits of Concierge to assist you with everyday tasks, spur-of-the-moment questions, and unexpected changes in plans. You can connect with Concierge in your vehicle, or on-the-go with the mbrace Mobile App.

Visit www.mbusa.com/mbrace for more information or call (888) 581-6915 to sign up today.