Turn your back seat into a movie theater!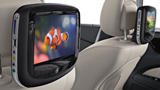 Watch movies, play music and more while on the road with the Mercedes-Benz Rear Seat Entertainment System!*

Bring along your favorite DVDs and your back seat becomes a personal movie theater with the Mercedes-Benz Rear Seat Entertainment System (RSES). Wireless headsets (2 included in the RSES Kit) eliminate driver distraction and improve audio quality for rear seat passengers.

The system features two 7" screens located on the back of each headrest, each with a slot for a DVD and both operated by an included remote control. An SD-Memory Card integrated into the player makes it easy to connect USB-Drives and other external devices to play MP3, DivX, MPEG 4 and JPEG files. An additional feature includes the option to sync both screens in order to have only one DVD in either player.

Contact your authorized Mercedes-Benz dealership for details on Mercedes-Benz Accessories for your vehicle model.

*COMAND may be required. Mercedes-Benz recommends that children be supervised while using the system.