Mercedes-Benz StarParts
Designed for vehicles five years and older, Mercedes-Benz StarParts get the job done right.
Value for you. Value for your vehicle.
To get the most out of your Mercedes-Benz, it's important to care for it properly. Along with regular maintenance at your dealership, Mercedes-Benz StarParts can help keep your vehicle in top shape. They're authentic, competitively priced and designed specifically for vehicles five years and older.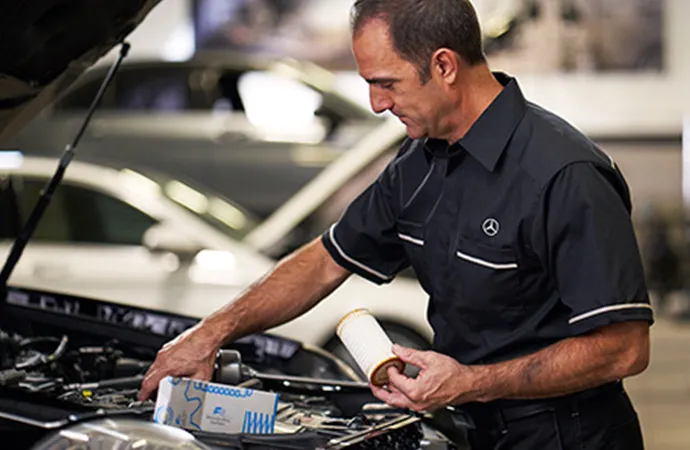 Parts you can count on, mile after mile.
Meeting strict standards for quality and safety, Mercedes-Benz StarParts are:

Designed and approved by Mercedes-Benz
Designed for an exact fit, specifically for vehicles five years and older
Developed, tested and approved for high-functionality and performance
Backed by a one-year warranty1 that includes parts and labor


The right parts at the right price.
StarParts consist of the most commonly replaced parts in the vehicle. These include:
Brake Discs
Brake Pads
Cabin Filters
Engine Air Filters NEW
Oil Filters
Spark Plugs
Wiper Blades

Available for a variety of models.
Replacement parts are specially built for the following vehicles:
2008-2014 C-Class
2006-2011 CLS
2003-2014 E-Class
2006-2012 GL
2006-2012 GLK
2006-2012 ML
2005-2012 R-Class
2005-2011 SLK
Frequently Asked Questions
StarParts are meant to provide high-quality parts at a competitive price for owners of vehicles five years and older.
Meeting the needs of an underserved, yet valuable group of Mercedes-Benz owners, StarParts can provide another parts option for your price-sensitive customers. Plus, they are backed by a one year warranty[1] that includes parts and labor.
With rising vehicle age and increased mileage, different demands are placed on a Mercedes-Benz and its corresponding service. Since these older vehicles are now out of production, we can reduce cost by using alternative materials, reducing specific functions and standardizing certain variants – all without sacrificing quality and fit. In the end, these three factors allow for cost savings that can be passed on to you.
The current range includes the most common maintenance/wear and tear parts, and therefore covers the main service events, such as a routine inspection or a brake service. The following seven product groups are currently available. Brake Discs, Brake Pads, Cabin Filters, Engine Air Filters, Oil Filters, Spark Plugs, and Wiper Blades. The Mercedes-Benz StarParts product range will be constantly expanded, so your customers can profit from a wider product offering.
StarParts are available for the following classes and models: C-Class, CLS, E-Class, GL, GLK, ML, R-Class and SLK.
StarParts are designed using a certified development and approval process. They are new, cost-optimized parts. What differentiates them from Genuine Mercedes-Benz parts is a reduction of additional functions and the targeted standardization of production variants.
Remanufactured Parts have a different range of available parts than StarParts. Remanufactured Parts include major assemblies and mechanical or electrical components, such as a turbocharger, alternator or engine. StarParts are devised for common maintenance or wear and tear, and have been specially developed for Mercedes-Benz vehicles five years and older.
StarParts have been developed, tested and approved by Mercedes-Benz for high functionality and exact fitment. They meet our strict quality and safety standards, which far exceed what's legally required.
StarParts provide a competitively-priced alternative for commonly replaced parts. A major advantage of StarParts is that they're backed by the comprehensive product knowledge and experience of Mercedes-Benz.
StarParts are newly developed parts with modifications matched to the age of the vehicle and its current market value. Since targeting standardized variants are used, larger quantities can be purchased, lowering the cost for you. Further cost benefits result from the use of new production techniques and the elimination of some add-on features.
StarParts has its own brand identity within the Mercedes-Benz family. Look for the StarParts logo, packaging, marking and labeling.
Simply request StarParts when you bring your vehicle in for service at a Mercedes-Benz dealership.