Electric FAQs
From plug-in hybrids to all-electric vehicles, Mercedes-Benz offers a growing portfolio of alternative drivetrains, and with new technology comes new questions. Here are answers to the most common.
Right now, three hybrid plug-in models are available: the C 350e, the GLE 550e 4MATIC, and the S 550e.
There is. Buy a B 250e electric drive, and you'll receive a tax credit equal to your tax bill, up to $7,500. So, if you pay $5,000 in taxes, you'll receive a $5,000 credit. If you pay $7,500 or more in taxes, you'll get the full $7,500. The following credits are also available on our plug-in hybrid vehicles: $4,085 on the GLE 550e, $4,043 on the C 350e, and $3,000 on the S 550e. Be aware that the government may phase this out as electric cars become more popular, so the time to save is now. For more details, see your certified tax professional or read about the Plug-In Electric Drive Vehicle Credit from the Internal Revenue Service.
Many states offer their own incentives. In Illinois, for example, drivers of electric cars and plug-in hybrids are eligible for a rebate of up to $4,000. California offers rebates too, as well as other non-monetary incentives like unlimited access to the HOV lane, which saves you time in traffic. To see your state's incentives, visit www.afdc.energy.gov/laws/state.
Factoring in total cost of ownership - including purchase, incentives and fuel - plug-in hybrid cars can actually be less expensive than gasoline-only cars. Additionally, Mercedes-Benz plug-in hybrids have luxurious upgrades to enhance the experience, like standard AIRMATIC for a smooth ride in the C 350e.
You can do either. All Mercedes-Benz electric vehicles can be financed or leased at participating dealerships.
Electric and plug-in hybrid vehicles have the same warranty as our gas models, with a little extra. As with gas models, you're covered for defects in material and workmanship for 48 months or 50,000 miles (whichever comes first). However, the electric battery on the B 250e comes with an 8-year warranty of its own.
Yes, but it's much cheaper. Electricity in the United States is typically around 12 cents per kWh. If you drive 15,000 miles a year, that's about $540. A year of gas, on the other hand, can cost around $1,400. On top of that, the price of gasoline can fluctuate wildly, whereas the price of electricity is relatively stable. If you compare the GLE 350 4Matic to the GLE 550e 4Matic, it is about 70 cents cheaper per mile to drive the Plug-in Hybrid variant, resulting in about a $360 dollar savings per year in fuel costs. To see the average price of electricity in your state, visit the website for the Energy Information Administration.
For optimum performance, it is recommended that you charge your plug-in hybrid on a regular basis - for example overnight. If there is no opportunity to charge the car, you can still remain fully mobile thanks to the combustion engine. Through innovative radar-based technology, the system automatically adjusts the car's regenerative braking to recuperate as much energy as possible, extending the driving range of the battery or charging it. 
Regenerative braking adds to your charge as you drive. When the vehicle is coasting and the driver touches the brake pedal, the electric motor acts as a generator, slowing the car and pumping electric power back into the battery. Essentially, the momentum of the car is converted into extra power, extending your range as you go. 
No. Though hybrid technology allows the vehicle to operate on electric power only, it's not designed to run without gasoline. You'll want to keep gas in the tank at all times, just like you would in a conventional vehicle.
You might have heard of three levels of charging electric vehicles: Level 1, Level 2 and DC fast charging. Here's what they mean:
Level 1 charging: This is charging that takes place on a typical electric outlet. All battery-electric vehicles and plug-in hybrid vehicles come with a cord set that allows them to charge this way at home or out in public. All of our plug-in hybrid vehicles and the B250e come with a cord set that is compatible with a typical home outlet.
Level 2 charging: This involves a hard-wired, wall-mounted unit or a cord set that's compatible with 240-volt outlets. Away from home, most public charging stations are also Level 2. Some are free, while others require a paid membership.
DC Fast Charging: This is the fastest kind of charging currently available, with a growing number of stations available publicly. The amount of electricity they require makes them impractical for home use.
There are thousands of charging stations throughout the United States, with more being established on a regular basis. The best way to find them is with an app like PlugShare. These apps show you all of the stations nearby. They even let you add and review new ones yourself. If you're thinking about a plug-in hybrid or electric vehicle, download an app like this and see what stations are currently around you.
Yes, but it's worth noting that a standard household outlet is a 120-volt outlet, whereas a charging station has a 240-volt outlet or 220v connection, so it will take longer to charge on a standard outlet. The good news is that having a 240-volt charging station installed in your home is easy, and our dealers can help you make it happen.
It takes about 2 ½ - 3 ½ hours using a 240-volt charger for our plug-in hybrid and electric cars to go from an empty battery to a full charge. With a 120-volt charger, it takes about 4 ½ - 6 ½ hours. Of course, as technology improves, charge times will continue to decrease.
While some areas in the US have fast charge stations, the current Mercedes-Benz electric vehicles are not fast-charge capable. Part of the reason is because the Level 2 charging on the B250e and hybrid vehicle is already so quick.
Every Mercedes-Benz electric vehicle has specific features to ensure safe charging. In fact, charging your vehicle is actually safer than using a household electrical device. Instead of the electricity flowing as soon as it's plugged in, like a traditional appliance, the vehicle and wallbox converse to make sure it's safe before any electricity flows. Special attention has also been paid to make sure you can safely charge in wet weather.
No. While many electronics benefit from an occasionally empty battery, the lithium-ion battery has no "memory effect," meaning they never have to be drained, nor do they have to be fully-charged. The life of the battery remains unaffected.
Lithium-ion batteries are known for being lightweight, quick to charge, and having a long service life, which makes them perfect for electric cars. They're also easily recycled. Our lithium-ion batteries are automotive grade batteries, unlike the ones that are in our mobile phones, laptops, and other devices, they are engineered for longevity.
No, a hybrid or electric vehicle is just as safe as a conventional vehicle. The battery pack is sealed, and high-voltage circuits are protected from casual contact and appropriately marked so you know where they're located. All high voltage cables and circuits are also marked and are in bright orange with warning labels on them.
The same high safety standards that define Mercedes-Benz cars apply to plug-in hybrid and electric vehicles. The batteries are all safely protected in the event of an accident, and depending on the severity of the accident, the high voltage system is automatically disconnected in fractions of a second.
Just as you would with a gas-powered vehicle, you'll need to take extra steps for the both the hybrid vehicle battery and the auxiliary battery. Instructions can be found in the operator's manual.
Since a plug-in hybrid's battery is automotive- grade, it's extremely durable and engineered for longevity and reliability. Very rarely does a plug-in hybrid battery need to be replaced during the average ownership period.
In many ways, you'll notice an improvement. Unlike gas cars, electric cars deliver power to your wheels instantly, with no lag time, as soon as you step on the pedal. The result is greater torque and acceleration. They're also exceptionally smooth. There's no gear shift and no shaking when idle. Most drivers are so accustomed to the constant vibration of gas vehicles that it isn't until they experience electric that they realize the remarkable difference.
MPGe is the electric equivalent of miles per gallon. Essentially, it's how manufacturers show the efficiency of a vehicle: The higher the MPGe, the more efficient it is.
The estimated range is 87+ miles, as calculated by the EPA. Since the average American drives 29.8 miles per day (according to this study by AAA), this is more than enough to get you where you need to go. It's also worth noting that the actual range of your vehicle depends on a number of factors like driving behavior, outside temperature, speed, traffic and more.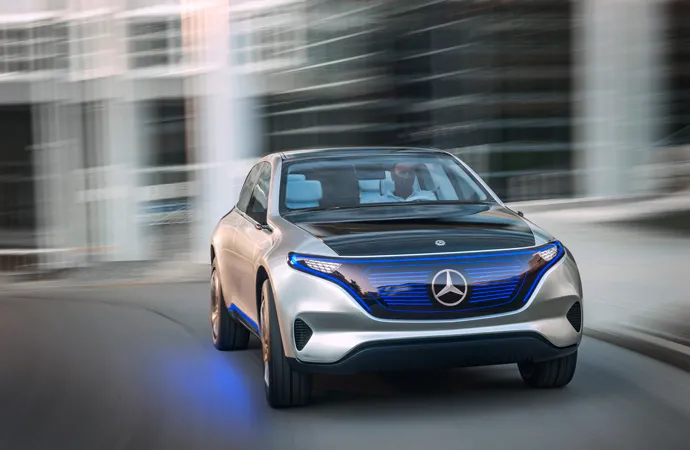 Discover Mercedes-Benz EQ.
The latest electric technologies come to life with the Mercedes-Benz EQ lineup. Consisting of fully electric vehicles, plug-in hybrids and the high-performance EQ+ variants, Mercedes-Benz EQ offers electric intelligence for luxury drivers everywhere.
Learn More