Owners
Get closer to your Mercedes-Benz and see how to maintain it with the resources below and Mercedes me connect.
Mercedes me connect
With Mercedes me connect, owners can easily view their vehicle information, get 24/7 assistance, access connected vehicle services and more on J.D. Power's #1 vehicle app. Here's a quick preview of Mercedes me connect and our other apps.

The Mercedes me connect app
For 2019 and newer vehicles, you can access the latest vehicle features.
Use Remote Start or Pre-entry Climate Control (EV Only) and Lock/Unlock
Send an address to your in-vehicle navigation
Navigate to chargers (EV Only)
View vehicle data like mileage/range, fuel level/charge status and more
Track the location of your vehicle

Access connected vehicle services for 2019 and newer vehicles using the Mercedes me connect app on iOS and Android.

Learn More

The Mercedes me Finance app
For all things Finance use Mercedes me Finance. It comes loaded with features designed for speed and simplicity.
Register Your Account
Make Payments
View Transaction History
Enroll in Auto Pay
View Statements
Manage your Mercedes-Benz Financial Services account on the go using the Mercedes me Finance app on iOS and Android.
Learn More

The Mercedes me app
For all Mercedes-Benz owners, the Mercedes me app is your go-to resource.
View manuals and how-to videos specific to your vehicle
Contact your preferred service or sales dealer
See the latest news from Mercedes-Benz
Access connected vehicle services for 2018 and 2017 vehicles using the Mercedes me app on iOS and Android.
Log In or Register

Charging
From learning about different charging methods to exploring the benefits of the Mercedes me Charge suite of features, this is your Mercedes-EQ charging destination.
Learn More

3G networks are retiring.
Network carriers have elected to decommission the 3G network. Learn what this means for your vehicle's connected services and alternative solutions available.
Learn More

Mercedes-Benz Digital Rescue Assistants
In order to provide the best possible support for rescue personnel at the site of an accident, Mercedes-Benz has developed its own digital rescue assistants. They provide clarity about all safety-related details for the vehicle in case of emergency – and thus offer life-saving benefits in seconds. Rescue personnel can find comprehensive information about our vehicles and their safety systems in our guidelines.
Learn More

Mobility Equipment
If you or a family member have special transportation needs, you may be eligible for the Mercedes-Benz Mobility Program which helps manage the cost of having equipment installed in your vehicle and making it accessible to all. View our program guidelines below or learn more from the National Mobility Equipment Dealers Association.
*European model shown.

View Program Guidelines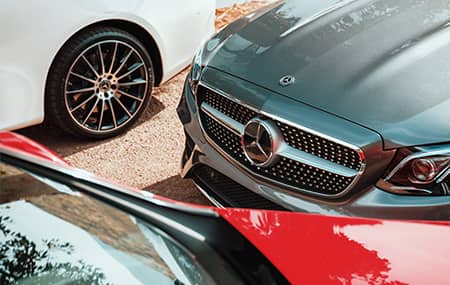 Maintaining your Mercedes-Benz
Your Mercedes-Benz is made up of thousands of parts, all working in unison to deliver quality performance, comfort and safety. See how to properly maintain it at every leg of the journey, and keep it running like new for years to come.