Helping you through
Lease End.
Review Your Options
As you approach the end of your lease, you have options to choose from. Please contact your dealer or call the Mercedes-Benz Financial Services Lease Maturity Department at 800-873-5471 to discuss.
Return Your Vehicle

If you're interested in returning your current vehicle and getting behind the wheel of a new Mercedes-Benz, your dealer can help with that transition.

Purchase Your Vehicle

If your current car is too perfect to let go of, your dealer or Mercedes-Benz Financial Services can help you with the steps to purchase it.
Your Loyalty, Rewarded
If you replace your off-lease vehicle with a new Mercedes-Benz vehicle, we will credit your account for excess wear and use charges up to $500. Plus, if you lease or finance your next Mercedes-Benz vehicle with Mercedes-Benz Financial Services (MBFS), you will receive a credit for the vehicle turn-in fee, up to $595. It's our way of thanking you for choosing to stay with us. Disclaimer[3] Disclaimer[4]
Prepare for Lease-End
Once you've made your decision, the process for returning your vehicle starts approximately four months prior to your lease maturity date and should include the following steps.
Lease-end Steps
Step 1: Schedule Your Vehicle Pre-Inspection
Prior to turning in your leased vehicle, schedule your complimentary pre-inspection with the independent third-party inspection company. You choose the time and location that's most convenient, including at home, at work, or another convenient location of your choosing.
Visit www.autovinlive.com/login to schedule online or contact the AutoVIN Call Center at 800-556-2811 for assistance.
Step 2: Review Pre-Inspection Results
Review your pre-inspection report available online at www.autovinlive.com. Then explore the option of repairing any excess wear and use items with your Mercedes-Benz dealer in advance of your expected vehicle return date.
Please note, if you are replacing your off-lease vehicle with a new Mercedes-Benz, we will credit your account for excess wear and use charges up to $500.
Step 3: Return Your Vehicle
Contact your dealer to schedule a day and time to return your vehicle.
Prior to returning your vehicle, be sure to detach your vehicle from your Mercedes me connect account. You can do so in the Mercedes me portal: https://me.mercedes-benz.com. Upon detachment, your vehicle will be removed from your Mercedes me account and all the services will be deactivated. By removing the connection between you and your vehicle, this allows for a smoother transition into your new Mercedes-Benz vehicle. This detachment means that your vehicle is no longer tied to your account.
Step 4: Lease-End Statement
Get your final lease-end statement in the mail, detailing any charges incurred for mileage overages and/or excess wear and use. Charges will be based on the final, third-party vehicle inspection to be conducted at vehicle turn-in.
Assess Your Vehicle
Before your pre-inspection, use The Credit Card Test® and the vehicle condition guidelines below to determine if your vehicle has incurred excess wear and use that you may be charged for at lease-end. If repairs are necessary, we recommend these repairs be performed by an authorized Mercedes-Benz dealer.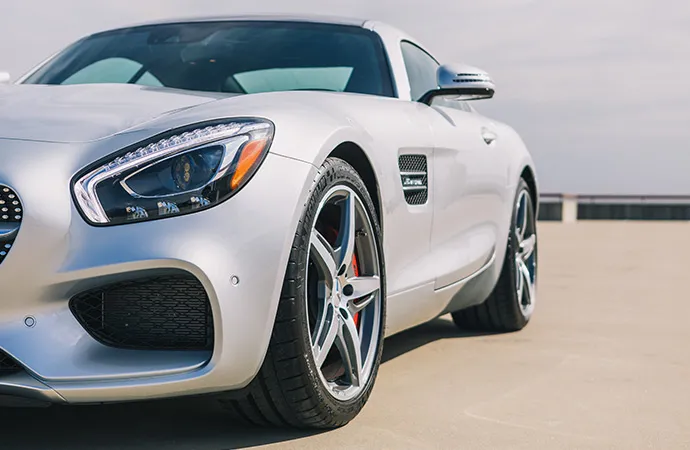 The Credit Card Test®
Use The Credit Card Test® to assess your exterior damage. In general, if exterior damage cannot be seen when a standard size credit card is placed over it, you won't be charged. Disclaimer[5]
The following vehicle conditions will result in excess wear and use charges:
Holes, cracks, gouges, tears, or cuts in the sheet metal or bumper, regardless of size

Dents that are larger than the size of a credit card

Scratches that are through the paint and larger than the size of a credit card

The sixth and each subsequent scratch per panel that is through the paint and smaller than the size of a credit card

Tears, cuts, holes, or burns to the interior, regardless of size

Damaged safety items, regardless of size (e.g., torn seat belts)

Glass or lights that have cracks, stars, holes, or plugs (a star is a chip with one or more legs, and a plug is considered unsafe for vehicles with supplemental restraint systems)

Collective damage, regardless of size, that is caused by a single event (e.g., hail damage)

The following vehicle conditions will result in excess wear and use charges:
Wheels that are cracked or bent
Wheels that weren't originally equipped with the vehicle at the time of delivery (upgraded aftermarket wheels installed by an authorized Mercedes-Benz dealership are acceptable)
Rims that are bent or have breaks (regardless of size)
Tires with less than 1/8" (or 4/32") tread depth
Tires that have sidewall damage (which includes plugs and cuts), bulges, or exposed cords
Tires that are mismatched: Tires on each axle that are not the same size, brand, model, type and/or speed rating, and equivalent in quality and performance to the original tires*
Spare tire and rim (or inflation kit for those vehicles without a spare tire) that are missing or not in operable condition
*If you plan on replacing the tires on your vehicle, you should visit www.mbusatirecenter.com to locate the appropriate replacement tires for your model. Additionally, please note that if your vehicle came equipped with run-flat tires, the replacement tires must also be run-flats.
The following vehicle conditions will result in excess wear and use charges:
Maintenance specified by the manufacturer has not been performed and documented
Warranty repairs have not been completed

The following vehicle conditions will result in excess wear and use charges:
The vehicle's factory-installed parts are not present, are damaged, or are in poor working order

Third-party aftermarket alterations have not been restored to their original condition

Changes to vehicle color or the addition of non-factory paint schemes

Damage caused by parts and accessories removal

Prior to turn-in, be sure to remove all personal items from the vehicle, complete all scheduled maintenance, and ensure all originally equipped items (if applicable) are returned with your vehicle. These items include, but are not limited to:
Second key

DVD system

Remote controls

Headphones for entertainment system(s)

Becker MAP PILOTs

Navigation disc or SD card

Headrests

Cargo cover

Tool kit

Spare tire

If your mileage is over the maximum number of miles allowed on your Lease Agreement (plus any additional miles purchased midterm), an excess mileage charge will be assessed at vehicle return. Refer to your Lease Agreement for the per-mile rate.