Mercedes-Benz mbrace®
A suite of services designed to keep you safe, entertained and always in-the-know.

Enjoy the starting mbrace® package for just $280/year.
The starting mbrace package comes with advanced features to keep you connected to your car, no matter where you are. Features like Remote Lock/Unlock and Vehicle Locator offer valuable peace of mind, while innovative safety features keep you and your loved ones safe and secure.


6-Month Trial Included for New Vehicles
3-Month Trial Included for Pre-Owned Vehicles
Contact Us to Learn More
Automatic Collision Notification
If an air bag or seat-belt Emergency Tensioning Device is activated, your Mercedes-Benz can automatically place a call to the mbrace Emergency Response Center and report your location, even if you can't.
SOS/Emergency Call
If you ever need help, or see someone else who does, one button in your Mercedes-Benz can connect you to trained emergency response personnel who will stay on the line until help arrives.
Roadside Assistance Connection
If you need a jump start, a spare tire installed, or have any other vehicle trouble, one button puts you in touch with Roadside Assistance. And before your conversation even begins, your location and vehicle information will be automatically transmitted to the mbrace Specialist.
Automatic Alarm Notification
Your vehicle's factory-installed antitheft alarm system can send you an alert via email, text message or phone, whichever is your preference, if the alarm is triggered while the vehicle is parked.
Stolen Vehicle Location Assistance
With mbrace, the GPS system that's built into your Mercedes-Benz can assist authorities with stolen vehicle recovery. Once you file a police report, a phone call to mbrace offers a safe and effective way to help the police locate and recover your car.
Safe Ride
If you find yourself unable to drive, mbrace can help you contact a family member or taxi company for a ride home.
Valet Protect
Set a defined boundary on your smartphone when you leave the vehicle and its key with another driver such as a parking attendant. If your car exits this "virtual fence," Valet Protect can send you a text-message alert.
Send2Benz™
Send an address from your phone or computer directly to the COMAND navigation system in your car. When you get to your car, you can start navigating right away, or save the address in the system's memory.
The Mercedes me Mobile App
Powered by mbrace, the Mercedes me app provides quick access to your favorite features, including Remote Lock/Unlock, Send2Benz and Vehicle Monitoring. Plus, you can view your manuals, maintenance info, how-to videos, financial terms, and more.
Remote Door Lock/Unlock
Lock or unlock your vehicle from virtually any location. This helpful feature can be accessed from the Mercedes me app or with a quick phone call to the mbrace Response Center.
Remote Horn & Lights
Help locate your car in a crowded lot, or call attention to it in an emergency, by remotely sounding the horn and flashing the exterior lights for a period of five seconds.
Vehicle Finder
View your vehicle's location on a map using the Mercedes me app, with helpful walking directions from where you are currently.
Dealer Connect
Easily contact your preferred dealer - or find one that's nearby - with the push of a button in your car. A live assistant can not only look up the dealer for you, but also place the call to connect you to the desired department.
Vehicle Information
From setting the clock to understanding an indicator light, you can connect to a trained product specialist with the push of a button in your car, anytime you have a question about your car and its features.

Upgrade to mbrace PLUS for just $20/month.
With mbrace PLUS, you'll enjoy personal VIP service – day or night – as well as advanced travel assistance, and customizable vehicle monitoring features like Speed Alerts, Travel Zones and more.


3-Month Trial Included for New & Pre-Owned Vehicles
Contact Us to Learn More
Mercedes-Benz Concierge
Enjoy virtually unlimited assistance from a helpful agent with the knowledge and resources to help with almost any request. That includes dining recommendations and reservations, tickets to events, purchases like flowers or plane tickets, wake-up calls, birthday reminders and more.
Driving Journal
See where your Mercedes-Benz has been driven with an online map and a "breadcrumb" trail of its recent locations.
Travel Zones
Set up virtual boundaries and be alerted if your vehicle travels across them.
Speed Alert
Receive alerts, via text or email, if the vehicle exceeds a speed that you determine.
Curfew Minder
Monitor use of your vehicle by receiving smartphone alerts when your vehicle has been started during a set time or date.
Turn-by-Turn Route Assistance
Enjoy operator-assisted turn-by-turn route instructions to virtually any destination, including more than 15 million Points of Interest (POIs) in our database. The assistant can also download the POI directly to your car's COMAND navigation system.
Location-Based Traffic
Hear up-to-date voice-delivered traffic information in your car, based on your current vicinity or along up to eight preferred routes that you set up online.
Location-Based Weather
Listen to the latest weather conditions, forecasts and alerts, based on your current location.
Point-of-Interest Download
Plan your routes on-the-go with the touch of a button. A specialist will help you select from over 15 million Points-of-Interest and send the address to your vehicle's navigation system. Then you can access directions based on your vehicle's location.
Mercedes-Benz Apps (+14/month)

Add Mercedes-Benz Apps for $14/month.
Enhance your ride with Mercedes-Benz Apps, which lets you turn your vehicle into a WiFi hotspot and provides countless information and entertainment, from nearby restaurants and gas stations, to the latest news and weather, to more than 80,000 live radio stations.
3-Month Trial Included for New & Pre-Owned Vehicles
Contact Us to Learn More
HERE™ Local Search
Wherever you're headed, Local Search provided by HERE can help you get there quickly and easily. Save search results, call listed phone numbers, and start navigating with just a few clicks.
Yelp
Search actual user reviews of restaurants and businesses with Yelp. Then select a destination, and send its address directly to the navigation system.
News
Keep up-to-date on the latest news from around the world. You can even share news stories via email or Facebook.
My MBFS
Courtesy of Mercedes-Benz Financial Services, you can now look up your account details, make a payment, contact a dealership and more, all from the driver's seat.
Point-of-Interest Download
Plan your routes on-the-go with the touch of a button. A specialist will help you select from over 15 million Points-of-Interest and send the address to your vehicle's navigation system. Then you can access directions based on your vehicle's location.
Morningstar® Finance
Receive global market data, search among more than 400,000 investment offerings, and create a personalized ˜Watch List˜ for financial updates.
Traffic Cameras
With access to thousands of traffic cameras in more than 250 US cities, you can get visual verification of traffic flow, incidents and weather-related road conditions near your current location, along a specific route, or near your destination.
Weather
Get current conditions, severe weather alerts and a 12-hour forecast based on your vehicle's location - or other preset locations - all at the touch of a button.
Gas Stations & Prices
Search for the least expensive fuel in your area and get directions to the nearest provider.
TuneIn Radio
Listen to more than 80,000 live radio stations and 2 million podcasts from around the world, searchable by location, genre, station type, station name and even station call sign.
WiFi
Your vehicle becomes a WiFi hotspot allowing you to connect up to four devices to the Internet.
iHeartRadio
This all-in-one digital radio service lets you find more than 1,500 live stations or create commercial-free custom stations featuring songs from your favorite artists.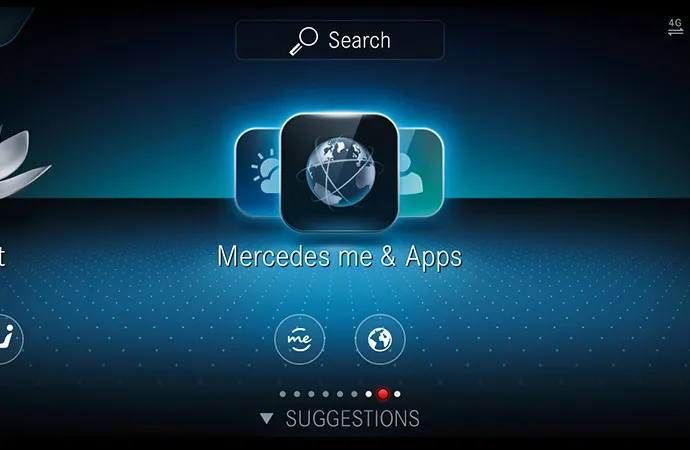 Bundle both packages for $28/month.
Add mbrace PLUS® and Mercedes-Benz Apps to get the full luxury experience at a cost you can't deny.
Have a question? Ready to subscribe?