Mercedes me connect
Access your vehicle from anywhere, and experience all the benefits of ownership with Mercedes me connect. Visit a dealer to activate your services today.
The Digital Extension of your Mercedes-Benz
Whether you're starting your engine, getting customer support or simply checking your fuel, Mercedes me connect is here to make life easier.

Start your engine – anytime, anywhere.
Mercedes me connect lets you prepare for any trip using the Remote Engine Start feature. You can cool down or heat the cabin, so as soon as you step inside, you're completely comfortable and ready to drive.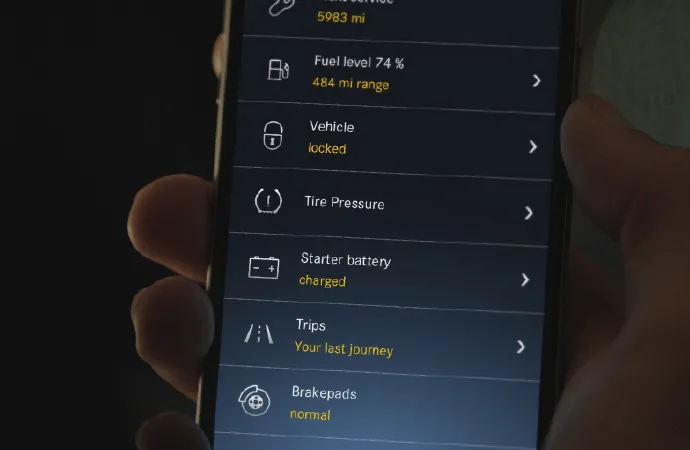 Get up-to-the-minute vehicle data.
Mercedes me connect provides a quick snapshot of your mileage, fuel level, tire pressure, fluids and more. Plus you can see your vehicle's location, whether you're in a crowded parking lot or across the globe, and lock or unlock the doors at the tap of a button.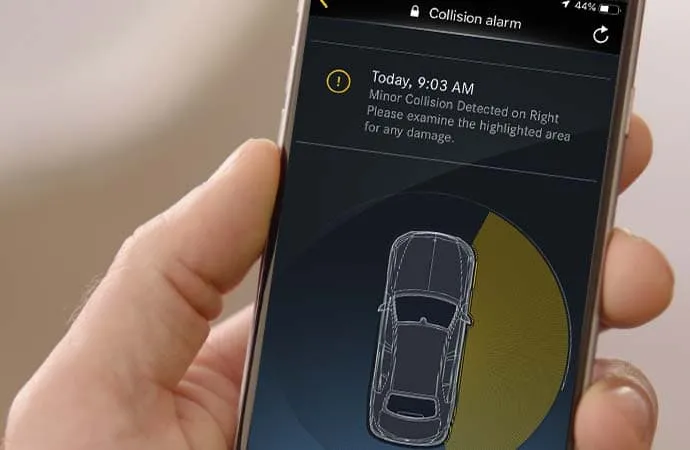 Protect what matters most.
Using advanced alarm technology, Mercedes me connect notifies you immediately of any forceful exterior impact as well as any interior movements when your vehicle is parked and locked.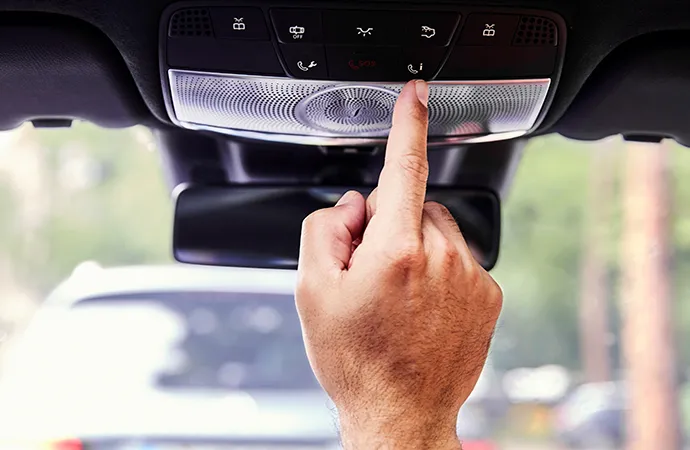 Enjoy maintenance and support with a personal touch.
From maintaining your vehicle and scheduling service, to receiving help in the event of an accident, Mercedes me connect allows you to hit the road without reservation.
The Mercedes me connect App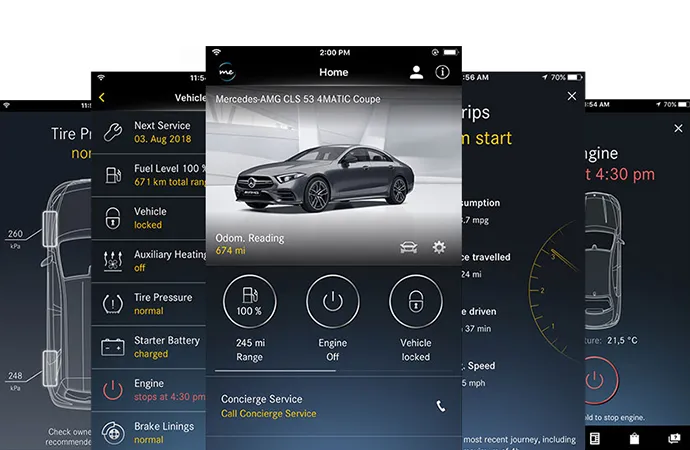 Available on Android, iOS and Apple Watch

Get the latest updates, in your vehicle and on the go.
With Mercedes me connect, you may never want to exit your Mercedes-Benz. Activate your services to enjoy:
Live Traffic Information
Online Map Updates
Car-to-X Communication
Advanced Speech Recognition and Natural Language Understanding (MBUX)
Software Updates
In-Car WiFi

Disclaimer

[4]
TuneIn® Radio
… and much more!
How to Activate Your Services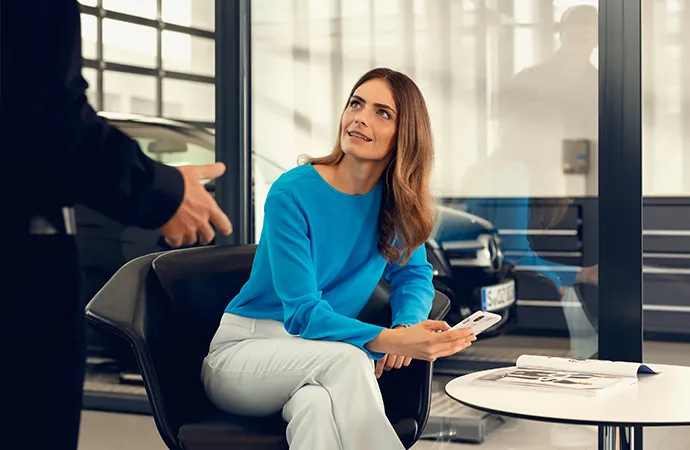 Contact your dealer to get started.
Only your dealer can activate your services, so if they haven't already, contact them and they'll be happy to help. Then download the app, create a profile and have your Mercedes-Benz in the palm of your hand. For assistance, call (800) 367-6372 to speak to a representative.
Find a Dealer >
Full Feature List
Discover all of the features available with Mercedes me connect.
Remote Start[5]•

Start your vehicle's engine remotely, and automatically heat or cool the cabin to your last climate control setting.

Remote Door Lock & Unlock•

Lock or unlock your vehicle from virtually any location, and know that your vehicle is always secure.

Remote Retrieval of Vehicle Status•

View the latest data from your vehicle, including mileage, fuel level, tire pressure and more.

Parking Damage Detection & Advanced Interior Alarm Sensor•

Notification of impact to parked vehicle and any unexpected motion events inside your vehicle.

Point-of-Interest Download•

Send an address from your phone directly to the COMAND navigation system in your car. When you get to your car, you can start navigating right away, or save the address to your head unit.

Charging and Pre-Entry Climate Control (EV)•

For hybrid and electric vehicles, view your charging status and activate climate control remotely.

Personalization[6]•

Adjust your in-vehicle settings such as ambient lighting, mirror folding, acoustic lock, easy entry, and more.

ENERGIZING Coach•

Uses trip data and heart rate from compatible GARMIN devices to start one of our ENERGIZING Comfort programs in vehicle.

Vehicle Monitoring Services

Vehicle Tracker•

View the current location of your vehicle on a map using your smartphone or computer.

Parked Vehicle Locator• Never forget where you parked again. See your vehicle's location within a one mile radius, and get walking directions to it.

Stolen Vehicle Location Assistance•

In the unfortunate event that your vehicle is stolen, the GPS system can assist in its recovery. Once you file a police report, the vehicle can transmit its location to help local authorities in locating the vehicle.

Geofencing•

Set up a virtual boundary through the Mercedes me connect Portal, and be notified when your vehicle enters or exits that defined area.

Navigation Services

Live Traffic Information[6]

View live traffic information and optimized route guidance on your vehicle's navigation.

Car-to-X Communication[6]

With Car-to-X Communication, information is exchanged between vehicles on the road, alerting you to various hazards up ahead, such as an accident, fog or icy conditions.

Fuel & Charging Stations with Pricing[6]

When viewing your navigation, Mercedes me connect will display gas and charging stations on the map with helpful information like prices, fuel type, hours of operation and more.

Route Planning (EV)[6]

Calculate your route based on your vehicle's remaining range and the charge stations along the way.

Parking Points-of-Interest[6]

Need parking? View parking facilities near your location, along with current availability and prices.

Online Map Updates[6]

Install the latest maps to your vehicle's navigation by downloading updates over-the-air, without affecting the speed or performance of the head unit.

Weather Overlay[6]

Have the option to view location-specific weather and temperatures within your navigation map.

Included in the Mercedes me connect app
Maintenance Management

Get reminders of upcoming service, and book an appointment with your preferred service dealer.

"Hey Mercedes" Voice Control

For certain vehicles, LINGUATRONIC online voice control allows you to speak to your car and have it speak back.

Telediagnostics

With any vehicle, wear and tear is bound to happen. Be notified if your car is in need of servicing or a certain part needs to be inspected.

Accident Recovery

If you're ever involved in an accident, receive immediate assistance and have a towing service arranged via Roadside Assistance.

Breakdown Management

In the event of a breakdown, your vehicle data and position will be relayed to the Roadside Assistance Center for immediate assistance.

Remote Vehicle Diagnostics

Allow your preferred service dealer to remotely retrieve vehicle data ahead of service, so your experience is as smooth as possible.

Software Updates

Get the latest software installed over the air, so your vehicle is optimized with the most current information from Mercedes-Benz.

Emergency Call Services[7]

Automatically receive help from an emergency response agent if you're involved in an accident, or place a call manually by pressing the SOS button in your vehicle.

Information Call and me Call Services[8]

For general or Mercedes me connect-related questions, contact a Mercedes-Benz Concierge using the in-vehicle call button. If your concierge service is not active, a representative will be happy to help.
WiFi Hotspot[4]

Your vehicle becomes a 4G WiFi hotspot allowing you to connect up to eight devices to the Internet.

TuneIn® Radio

Access TuneIn® radio using your vehicle's head unit to surf between 70,000 live radio stations from around the globe. Search by artist or song, and explore categories like music genres, talk radio, sports and more.
Frequently Asked Questions
To become a Mercedes me connect user, you should own a model year 2019 or newer Mercedes-Benz vehicle. Most remote access services are complimentary for three years. We recommend downloading the Mercedes me connect app to use these features. Note: Select 2018 GLE and 2018 C-Class vehicles are also equipped with Mercedes me connect services. Check with your dealer for details.

Your Mercedes me connect services must be activated in person by an authorized Mercedes-Benz dealer. This can be done during the purchase process or by bringing your vehicle into the dealership at any point after. Your dealer will need proof of identity, your email address, and a copy of your vehicle's registration. To complete the activation process, you must then accept the Terms of Use for the Mercedes me connect services, which can be accessed in the Mercedes me connect Portal.
While many of the features are similar, mbrace services are available on most model year 2018 and prior vehicles. Mercedes me connect services are available on most model year 2019 and newer vehicles. Note: Select 2018 GLE and 2018 C-Class vehicles are also equipped with Mercedes me connect services. Check with your dealer for details.

You do not have to provide a credit card to use Mercedes me connect. The standard package includes a wide range of features, with remote access features standard for the first three years.
No, Mercedes me is free for everyone, regardless of your vehicle's equipment and capabilities. However, customers with Mercedes me connect will have access to additional features.
Many Mercedes me connect features – such as Remote Start, Vehicle Tracker and more – require the Mercedes me connect app. We recommend also downloading the Mercedes me app in order to view your vehicle manuals, watch how-to videos, manage your MBFS account, make payments and more.
The Concierge Service offers you easy access to a broad range of personalized services, such as assistance in booking travel, arranging event reservations, scheduling appointments or placing a take-out order. It's like having an event coordinator for your life. Requested services are fulfilled by a Concierge Specialist directly. In the case of purchases, such as tickets or a gift, they will request your credit card information and complete the transaction on your behalf.
A Mercedes-Benz Concierge can provide a broad range of services including but not limited to:
Airline reservations and ticket purchase
Car rental reservations
Hotel recommendations, reservations and directions
Dining recommendations, reservations and directions
Movie and theater tickets and directions
Sporting event tickets and directions
Concert tickets and directions
Unique requests and gift purchases such as flowers, gift cards, etc.
Medical help and safety support (e.g., locating a physician while on vacation or assistance in filling prescriptions)
Assistance gaining access to sought-after events and restaurants
Lost baggage assistance
Assistance wiring cash
Research and answer questions
Wake-up calls
Reminders for birthdays, anniversaries, and other events
Virtually anything that can be arranged over the phone or on the Internet
For non-emergency situations, the 'me' button allows you to contact all call-center based assistance services with the press of one button. Examples include Roadside Assistance, Vehicle Information and Concierge Services.
In-car WiFi is provided by the mobile network operator on behalf of Mercedes-Benz, and requires a COMAND system with navigation, which is optional on some model lines. To activate in-car WiFi for your vehicle, visit http://Att.com/Mercedes.