AMG GLC Coupe
Perfect for road trips. And power trips.
AMG GLC 43, AMG GLC 63 and AMG GLC 63 S COUPES
Mix the substance of a Mercedes-Benz SUV with the style of a coupe, and then infuse it with the pedigreed performance of AMG. The result? Poise and presence in bold proportions. And power served in three strengths, from spicy to molten.


A race that knows no finish line.
In an old mill in 1967, two automotive engineers with a passion for motorsports began turning Mercedes-Benz sedans into winning racecars. Today, as the performance division of Mercedes-Benz, AMG continues to create victory on the track and desire on the streets of the world. Every Mercedes-AMG vehicle is the product of craftsmen, designers and engineers who live to test limits, and for a singular goal: Driving Performance.


Born to perform, developed to outperform
A Mercedes-AMG engine only starts with the state of the art. From there, everything from fuel pressure to exhaust routing is developed to quicken, heighten and intensify its response, and yours. Developed for AMG's racecars, patented NANOSLIDE® cylinder walls cut friction, raising endurance and power.
---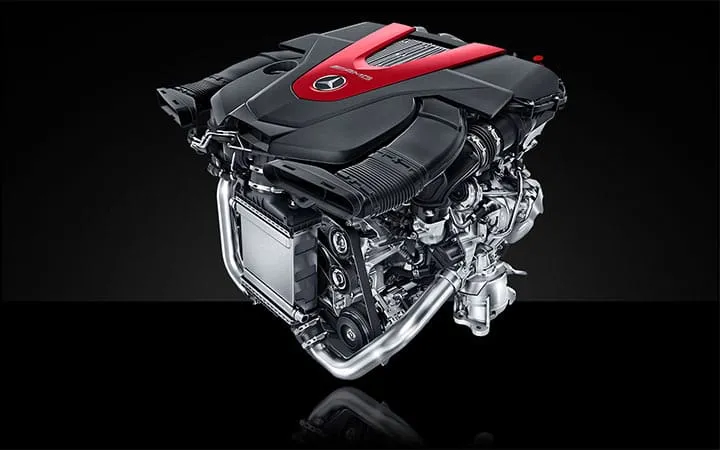 Choose your power: enhanced, extreme or epic.
With higher boost and lower friction, the fortified biturbo V6 in the GLC 43 puts out 362 hp, good for 0-60 in 4.7 seconds. Handcrafted biturbo V8s release a stampede of horsepower, for 0-60 in 3.8 seconds in the 469-hp GLC 63, and 3.7 seconds in the 503-hp GLC 63 S. ** [3]

More speeds, quicker shifts, and smoother moves.
A quick-thinking paddle-shifted AMG SPEEDSHIFT® TCT 9-speed keeps you in charge of the GLC 43's 384 lb-ft of torque. In both GLC 63 Coupes, the multiclutch AMG SPEEDSHIFT® MCT 9-speed is masterful at keeping you on top their mountains of torque. Both setups offer multiple modes and can downshift multiple gears.


Power to the pavement, the power of choice to the driver.
AMG Performance 4MATIC turns torque into traction and agility. The GLC 43's 31:69 rear bias quickens takeoffs and clings to corners. Variable-torque 4MATIC+ in the GLC 63 and GLC 63 S can send up to 100% of the engine's torque to the rear axle . [4]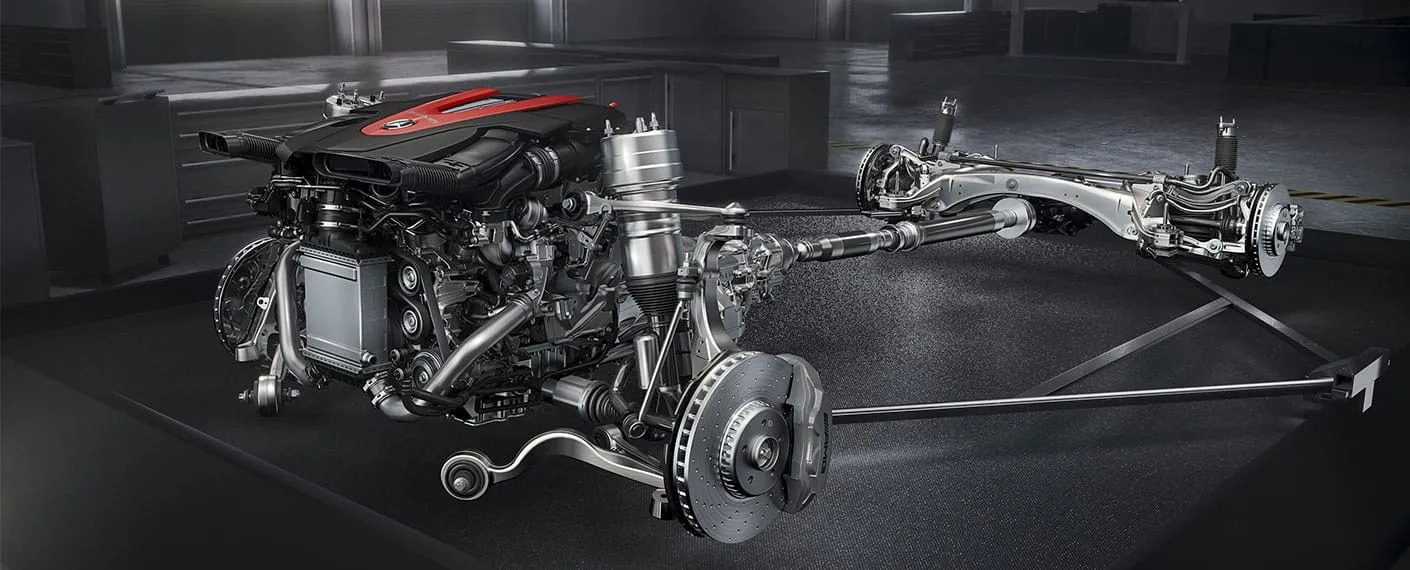 A chassis that's not just tuned, it's tunable
Based on self-lowering, multimode AIR BODY CONTROL, the AMG Sport Suspension is just one of the performance parameters you can set up to your liking via AMG DYNAMIC SELECT. Its five driving programs also let you dial in the shifting, exhaust sound and more.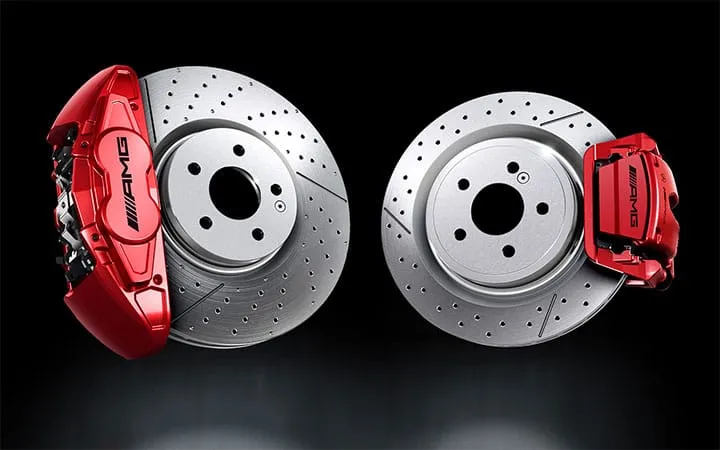 Track-tuned brakes, to stop you in your tracks
Subtantially sized brake discs are cast with their perforations in place, not drilled later, to better manage the stress of hard braking. Multipiston fixed front calipers apply their powerful force more evenly. Ceramic compound front brakes are a GLC 63 S option. [5]


A front-row seat for a command performance
Deeply bolstered sport seats, exclusive AMG gauges and performance readouts, and a thick flat-bottom steering wheel reward your every driving maneuver. True coupe luxury and design meet AMG personality and personalization, with a wide selection of rich finishes and racing-rooted upgrades.
---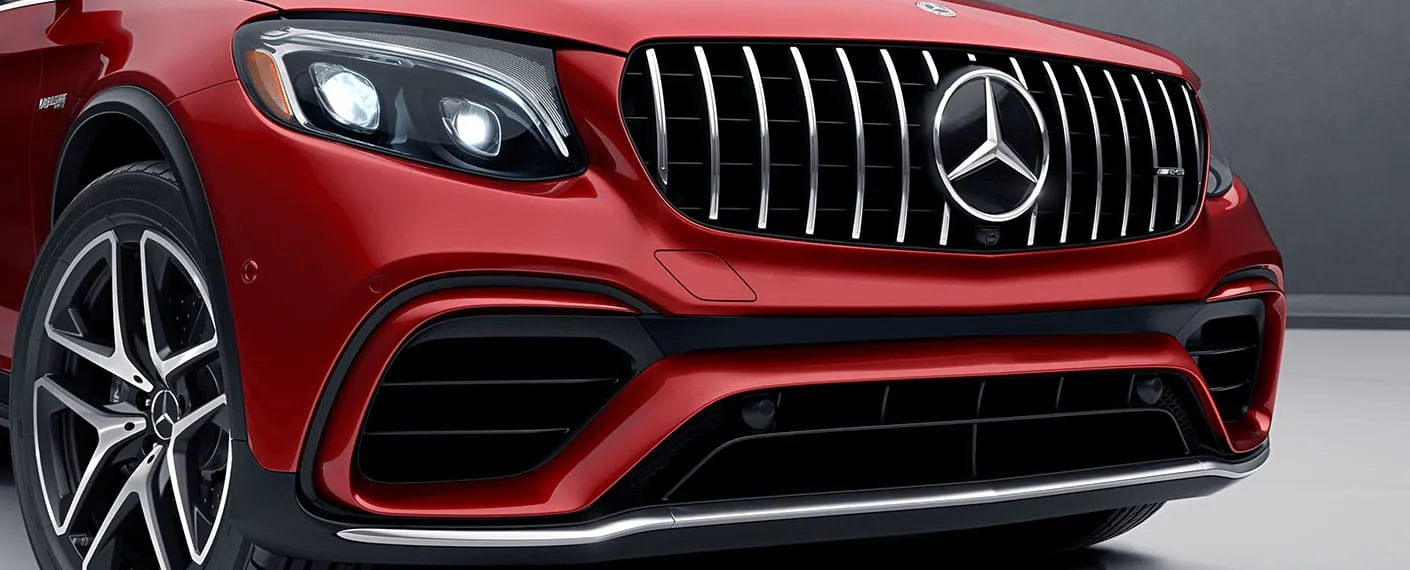 Buffed muscle, for polished performance
The taut muscle of a coupe is a natural for chiseled AMG bodywork. The GLC 43's gloss black accents contrast its diamond-block grille. The GLC 63 Coupes go all out with bold vertical-bar grilles and even more aggressive aero. All three take a confident stance on a range of 20-inch and 21-inch AMG® wheels.
Models
Model Lineup
AMG GLC 43 Coupe

$

61,200

*

MSRP

Engine

AMG-enhanced 3.0L V6 biturbo
Acceleration

0-60 mph
4.7 sec **

Net power

@ 5,500-6,000 rpm
362

hp

Net torque

@ 2,500-4,500 rpm
384

lb-ft
---
Dimensions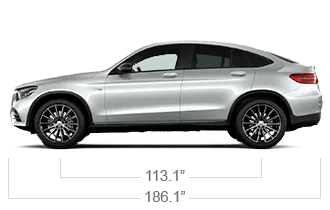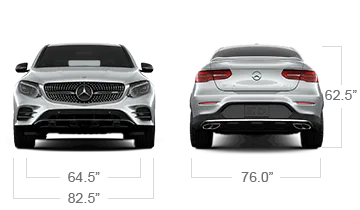 AMG GLC 63 Coupe

$

74,100

*

MSRP

Engine

Handcrafted AMG 4.0L V8 biturbo
Acceleration

0-60 mph
3.8 sec **

Net power

@ 5,500-6,250 rpm
469

hp

Net torque

@ 1,750-4,500 rpm
479

lb-ft
---
Dimensions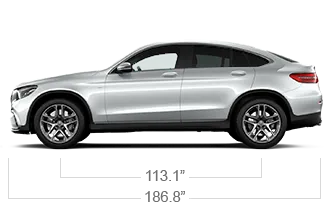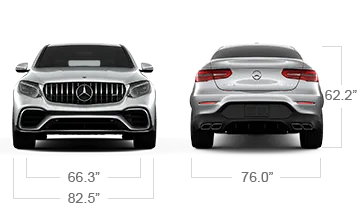 AMG GLC 63 S Coupe

$

81,800

*

MSRP

Engine

Handcrafted AMG 4.0L V8 biturbo
Acceleration

0-60 mph
3.7 sec **

Power

@ 5,500-6,250 rpm
503

hp

Torque

@ 1,750-4,500 rpm
516

lb-ft
---
Dimensions