Mercedes-Benz Driving Academy
As a long-time leader in vehicle safety and innovation, Mercedes-Benz introduces Mercedes-Benz Driving Academy - - the first international driving school, with a focus on programs educating teen drivers. Mercedes-Benz Driving Academy in Los Angeles offers a CA-state DMV-certified curriculum to help drivers make better decisions behind the wheel, and play a positive role in creating safer drivers.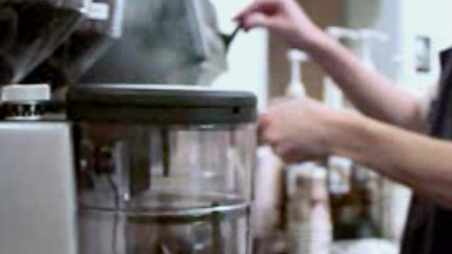 Finding the confidence to become their best selves.
Autism has the highest rate of unemployment among any diagnosed disability group. Worse, lack of employment means lack of interaction with other people, which only exacerbates the difficulties of living with autism. One dealer in Tampa, Fla. is doing what he can to help that.
Taking a holistic approach to sustainable manufacturing.
For Mercedes-Benz, part of community service is ensuring not only that our products have as little environmental impact as possible, but that our manufacturing methods do, too. It's called holistic manufacturing, and it's the type of approach expected of a company committed to delivering the best.
Mercedes-Benz dedicated $3.3M to Laureus Sport for Good Foundation since 2012
Inspiring Change Through Sport
By teaming up with Tony Hawk, Martina Navratilova, Michael Johnson and other legendary athletes, Mercedes-Benz and The Laureus Foundation are committed to helping disenfranchised young people around the world enjoy a better life through the power of sport.

2013 Year in Review

Continuing its longstanding tradition of community support, Mercedes-Benz USA and Laureus USA have teamed up with Up2Us´ Coach Across America program to train and place 650 coaches serving 90,000 young people in underserved neighborhoods within 15 U.S. cities.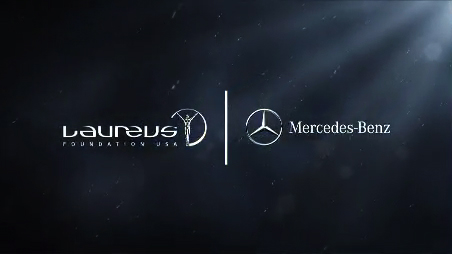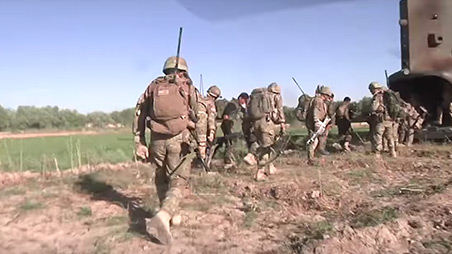 Johnny Mac Soldiers Fund - MB In the Community
Johnny Mac Soldiers Fund
Inspired by Col. John M. McHugh, who made the ultimate sacrifice in service to his country, the Johnny Mac Soldiers Fund provides college scholarships and grants, financial aid for professional certification programs and non-degree programs, and educational career counseling and mentorship to veterans and their families in need. The Johnny Mac Soldiers Fund is committed to providing support to those affected by the global war on terror, and Mercedes-Benz is proud to be a corporate sponsor.
Our Next 125 Acts
To commemorate the 125th anniversary of both the automobile and our company, we challenged ourselves to perform 125 Acts of Giving Back before the end of 2011. Here´s a small sample of how we met our goal.
Cookies for Cancer
Started by parents inspired by their son's battle with cancer, Cookies for Cancer has a simple objective: sell cookies to raise funding for pediatric cancer therapy research. With such a noble goal and singular focus, Mercedes-Benz USA is happy to host regular bake sales at our American headquarters.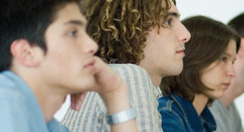 Safe Driving Presentations
A driver's license doesn't necessarily come with driving skill, so in the interest of inculcating good habits at an early age, Mercedes-Benz USA conducts safe driving presentations at local high schools. As safe as a car may be, it's at its safest with an educated driver behind the wheel.
Anti-Defamation League Benefit
For the fourth year in a row, the Anti-Defamation League of Greater Chicago held its young leadership event, Envision. A celebration of freedom and equality attended by 700 young professionals, Chicagoland Mercedes-Benz dealers were honored to be the event's sponsor.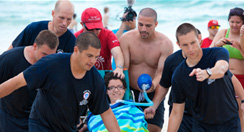 Community Stars
In celebration of 125 years of Mercedes-Benz, our national dealer body gave away a total of $125,000 to five local charities. The twist is that the $25,000 awarded to each charity was based on votes garnered in Community Stars, a competition conducted entirely on Facebook.
Stuff the Bus
Early childhood education lays the groundwork for future success, but without the right tools, it's difficult for a child to reap the full benefit. Recognizing this, our Southern Region dealers banded together in an annual school supply drive, delivering necessities to kids in need.
Family Reach Foundation
Providing support to families battling catastrophic pediatric illnesses, the Family Research Foundation assists with bills due to the lost wages of a parent and providing palliative care, among a host of other services. Mercedes-Benz USA supports their efforts wholeheartedly.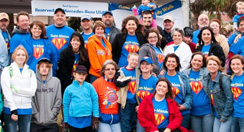 Down Syndrome Association of Jacksonville
The DSAJ's Buddy Walk raises money to "help people with Down syndrome achieve their full potential". Rallying behind Team Mason, the Southern Region helped to raise nearly $10,000 for the cause.