Mercedes-Benz Certified Collision Centers
Accidents happen. In the event that it happens to you, know that a Mercedes-Benz Certified Collision Center is there to help repair the damage and put your mind at ease.
Why Mercedes-Benz Certified Collision Centers?

Quality Care You Can Trust
The same care that went into making your vehicle is what goes into repairing it. At a Certified Collision Center, our technicians are specially trained to restore your Mercedes-Benz to its pre-collision condition using the proper parts and equipment.

Outstanding Service from Start to Finish
From the moment you contact us, we'll do everything we can to get you back on the road. We'll assess the damage, suggest a repair, and with your approval, get to work. If needed, a loaner vehicle will be arranged. Being involved in an accident is hard enough. We're here to make it better.
Mercedes-Benz Genuine Parts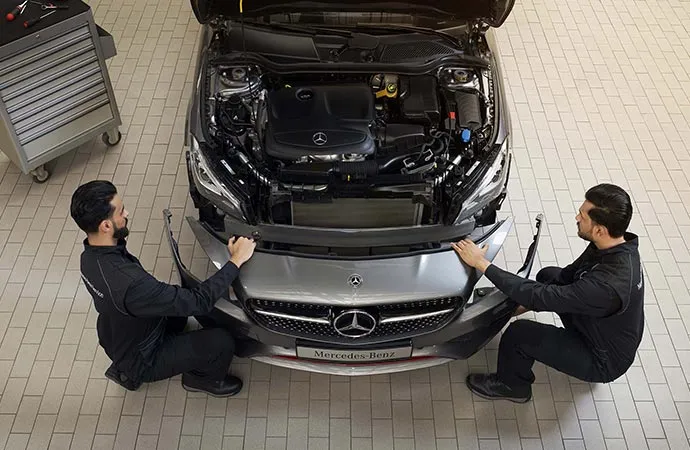 Made to Maintain Your Vehicle's Standards
Mercedes-Benz Genuine Parts are designed, manufactured, tested and approved to meet the exact specifications of your vehicle. To fit seamlessly, provide maximum safety, and last for the long haul. Plus, they're covered by our Parts Limited Warranty for up to two years.
Learn More
Mercedes me Collision Assist

Confidence Restored, With the Tap of an App
When it comes to minor accidents, the Mercedes me app offers a quick way to get the help you need. The Collision Assist feature lets you send your vehicle, insurance and damage information straight to a dealer who will connect you to the nearest Certified Collision Center. Download the app today.

Designed to Prevent and Protect
At Mercedes-Benz, we've been making the automobile safer since the day we invented it. That includes milestone inventions like the crumple zone and the driver-side airbag, as well as modern enhancements like the patented PRE-SAFE® system that anticipates an accident before it happens.
Learn More
For Collision Centers
If you own, operate or are employed by a Certified Collision Center, here are resources to help you help a customer in need.