Help protect your dashboard from sun damage while keeping the cabin cooler when the car is parked. The durable, folding shade is made of reflective fabric laminated to a foam core.
More Vehicle Care and Protection Accessories
All-season floor mats
$155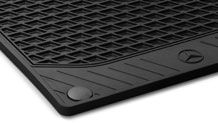 Genuine Mercedes-Benz Accessories
Genuine Mercedes-Benz Accessories allow you to define your driving experience with the same uncompromising quality and standards you have come to expect in your vehicle.
> Learn More
Lifestyle & Classic Collection
Express your automotive allegiance (and pass it on to family and friends) with our range of finely crafted offerings designed exclusively for Mercedes-Benz.
> Browse and Shop